Rubber roofing is an excellent choice for residential, commercial or industrial buildings, including home extensions, patios, and garden sheds, particularly for flat or low-pitched roofs. It provides a weathertight, durable finish that protects your property for many years. At Butlers Roofing, we only offer top-quality rubber roofing services backed by our ten year guarantee, ensuring the utmost satisfaction for all our customers.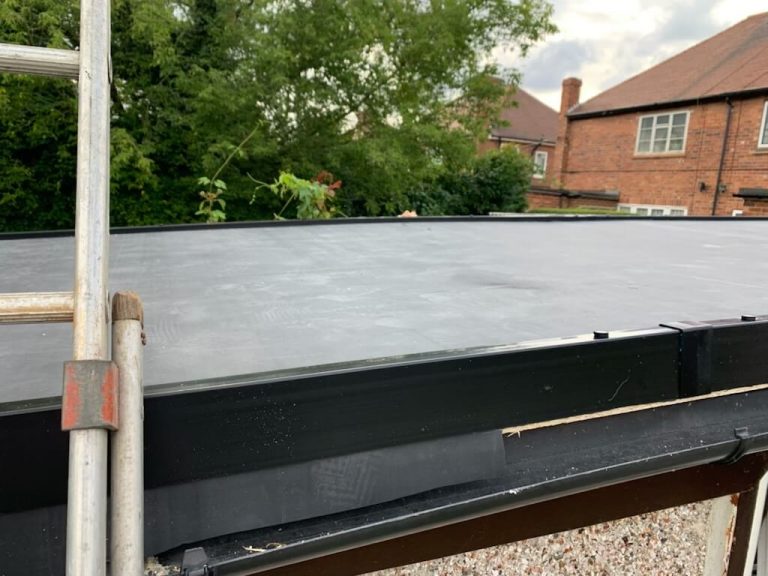 Our commitment to quality is uncompromising, and we only use the highest-grade EPDM (Ethylene Propylene Diene Monomer) products for our rubber roofing installations. EPDM offers a range of benefits that make it an outstanding choice compared to traditional roofing materials.
Experience the Firestone Difference!
Firestone Building Products is a globally recognised brand synonymous with quality, durability, and innovation in rubber roofing. Their EPDM (Ethylene Propylene Diene Monomer) rubber roofing membranes set the industry standard, known for their superior weather resistance, flexibility in extreme temperatures, and remarkable lifespan. As a trusted partner of Firestone, Butlers Roofing brings you the benefits of this top-tier roofing solution, ensuring your property is protected by the best in the business.
Don't hesitate to reach out to Butlers Roofing for any of your roofing concerns. From details about our wide range of services to scheduling your complimentary consultation, we're ready to assist. Remember, when it comes to roofing, we're not just experts - we're your trusted local specialists.
The Benefits Of EPDM Rubber Roofing
1.Durability: EPDM rubber roofing is highly resistant to extreme weather conditions, such as heavy rain, strong winds, hail, and snow. It also withstands UV radiation, ozone, and microorganisms, ensuring a long lifespan with minimal degradation.
2.Flexibility: Remains flexible even in extreme temperatures, allowing it to expand and contract with temperature changes. This flexibility prevents cracking and ensures a consistently tight seal over your roof.
3.Easy Installation: EPDM rubber roofing can be installed quickly and easily, as it is lightweight and comes in large sheets. This reduces the number of seams, lowering the risk of leaks and making the installation process more efficient.
4.Low Maintenance: Requires minimal upkeep. Occasional cleaning and inspection are typically sufficient to maintain its appearance and functionality, saving you time and money on maintenance costs.
5.Eco-friendly: It's an environmentally responsible choice. It is recyclable, has a low impact on the environment during production, and can help reduce energy costs by providing excellent insulation.
6.Cost-effective: An affordable option compared to other roofing materials, providing excellent value for money due to its durability, low maintenance, and energy-saving properties.
7.Water-resistant: Provides a watertight seal, effectively preventing leaks and protecting your property from water damage.
8.High tensile strength: EPDM rubber roofing has excellent tensile strength, allowing it to resist punctures, tears, and other forms of damage.
9.Noise reduction: Helps to reduce noise from rain and hail, creating a more comfortable environment inside your property.
10.Versatility: EPDM rubber roofing is suitable for various applications, including commercial, industrial, and residential buildings, as well as garden sheds and other structures with flat or low-pitched roofs.
By choosing EPDM rubber roofing for your property, you can enjoy a long-lasting, cost-effective, and environmentally friendly roofing solution that provides reliable protection for your investment.
Safeguard Your Roof Today
Have you considered upgrading your current roofing system to a more reliable and durable option? Don't wait any longer to safeguard your property with our rubber roofing solutions. 
Contact Butlers Roofing today for a FREE consultation to learn how we can transform your property. Call us today or complete our online form to get started. Experience the Butlers Roofing difference and secure your property's protection today!
Highly recommended
Eric Kerr
This company is an honest and trustworthy. Highly recommended
Good value for money.
Evelyn Wiseman
Leaking Roof fixed fast before the bad weather starts. Fast and good value for money.
The Butlers Roofing Advantage

A friendly and polite approach

Experienced & knowledgeable

Free estimates and advice

All work is fully guaranteed for 10 years

Both commercial & domestic uses

Reliable & flexible service

Premium quality of workmanship

Family run business